Women Taking on Previously Forbidden Roles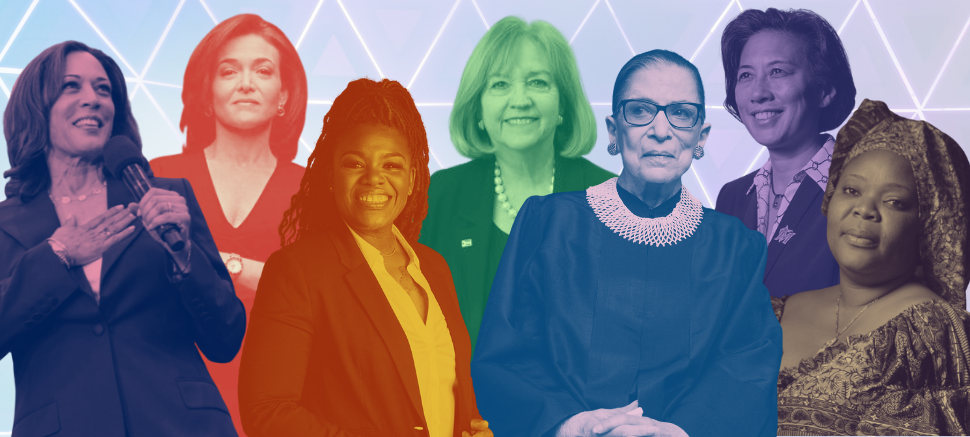 Left to Right: Kamala Harris —Noah Berger/Afp/Getty Images; Sheryl Sandburg — Magzter; Cori Bush — Taylor Jewell/Invision/AP; Lyda Krewson — Carolina Hidalgo, St. Louis Public Radio; Ruth Bader Ginsburg — Erik Madigan Heck, Trunk Archive; Kim Ng — Joseph Guzy, Miami Marlins; Leymah Gbowee — NY Times.

In the past couple months, it seems I've heard "the first woman" enough times to pique my interest on women taking on leadership roles and being acknowledged for their accomplishments. This led to some digging, which led to inspirational snippets of women's firsts since the 17th and 18th centuries. From patent-holders and botanists to entertainers and lawyers, women continue to make strides in breaking barriers and glass ceilings. The momentum is building in society with a focus on inspiring little humans with children's books featuring iconic women.
Meet the First Women
With the Made for Freedom headquarters in St. Louis, Missouri, it just seems right to start here with our female pioneers. A few days ago, a press conference began with the Mayor of St. Louis, Lyda Krewson, announcing that she will not seek a second term. It turns out she was the first female mayor of St. Louis when elected in 2017.

Interestingly, there have been a lot of other significant firsts in the news recently. After her death on September 18, 2020, Justice Ruth Bader Ginsburg was the first woman to lie in state in the U.S. Capitol. Early November was significant for women across the U.S. as election results came flooding in. Cori Bush became the first congresswoman for the state of Missouri. Furthermore, for the first time in American history, the Republican Party will have at least 26 women serving in the House for the 117th Congress beginning January 2021! Of course, there is the first female Vice President Elect, Kamala Harris of Indian and Jamaican heritage who has become an inspiration for girls everywhere. And let's not allow only politicians to steal all the firsts (pun absolutely intended!). Kim Ng was the first woman to become a Major League Baseball General Manager on November 13.

One would think that we are making great strides with women in leadership positions by having a woman elected to the position of vice president. However, in reality it's not that impressive when you consider the modern world's first female prime minister was Sri Lanka's Sirimavo Bandaranaike in 1960.

Taking Chances
Women are stepping into roles, previously forbidden.

During my 2019 trip to India with the U.S. Department of State, I was able to meet with the leaders and many of the drivers of Sakha Cabs, the first female taxi company in India. They overcame obstacles of general distrust of women as drivers (including the notion that women can't reverse park!) and public spaces being unsafe for women. Just with an increased presence of women driving in major Indian cities, they have improved public safety for women. To date, they have over 1000 women chauffeurs and cab drivers.

Since 2015, Indian female college students in Delhi have been protesting women's hostel curfews (as early as 6:30pm!) by intentionally going out after dark to claim the streets. This Pinjra Tod (Break the Cage) campaign challenges moral policing and deeply embedded patriarchy in Indian society. It has spurred a series of related protests in major cities across India and resulted in some institutions eradicating or modifying these policies.
Changing the Power Dynamic
The recent spotlight on women in leadership reminds me of my inner battle with Facebook COO Sheryl Sandberg when I first attempted reading Lean In in 2017. (I discuss my struggle in depth in Leaning In: Taking a Seat at the Table) I've learned so much from listening to the audio book numerous times, but the most impactful story is Sheryl's discussion with Leymah Gbowee, a peace activist who was awarded the 2011 Nobel Peace Prize from Liberia. The question Sheryl posed was, "What can be done to prevent the massive amounts of violence being inflicted on women in your country and throughout the world?" Leymah simply responded, "More women in leadership."

It took me a minute to process this statement, but when I thought about horror stories in red light districts and corrupt male-dominated law enforcement, it made perfect sense. Female officers patrolling red light districts may be tempted by bribes, but are more likely to have compassion on women forced into that situation and are unlikely to be swayed by "free services" in exchange for overlooking the criminal behavior. The Netflix series, Delhi Crime, based on the 2012 Nirbhaya gang rape case, explores how having a female police officer in a leadership role changes the landscape of law enforcement.

As far as we have come in achieving gender equality and seeing women in leadership, there is still a long road ahead. Women are still facing very real physical, emotional and mental danger because of how society is constructed to marginalize women and silence their voices. If we want to see change happen, we need more women to break barriers and lead the charge.